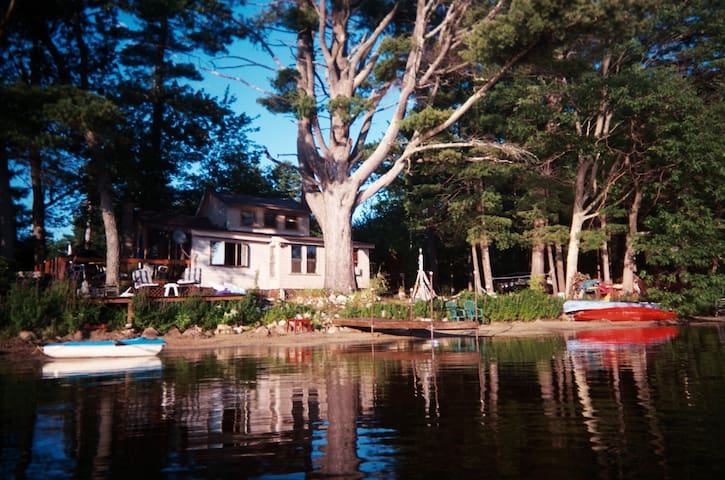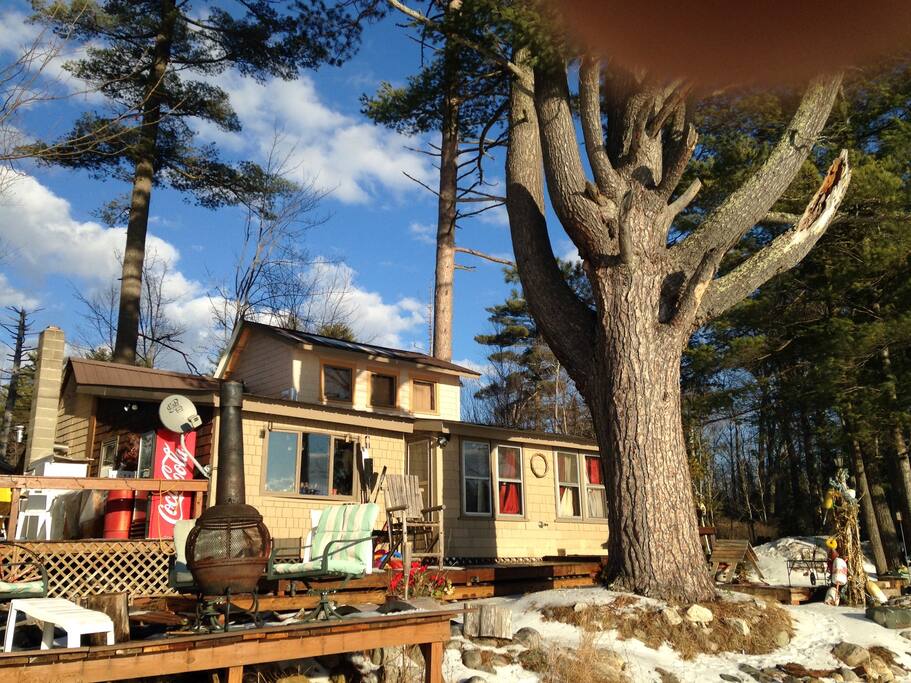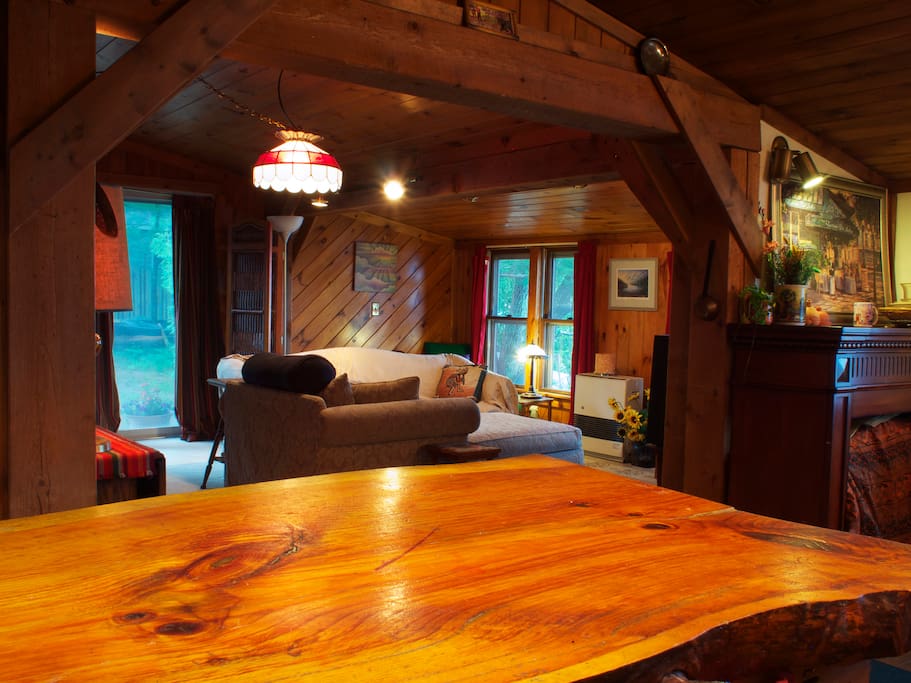 Central Maine USA! Paradiso al lago, natura paradiso-simpatico FUNky Camp: tranquillo, barbecue, pesce, imbarcazioni, escursioni, bici, giochi firepit / sportiva / foglia peep, sci, tubo di neve e pesce di ghiaccio. Boston 3 ore, vicino a Portland. Romantico Get A Way, ritiro rustico: può dormire 4 fino a 8 Vedi molte foto, ottima cucina, doccia calda e una vasca da piede artiglio al piano superiore nella camera da letto-ahhhh! Così dispiaciuto ma no animali più, per favore.
Central Maine USA! Lakeside, Nature Lover's Paradise-NICE FUNky Camp: Quiet, BBQ, fish, boats, hike, bike, firepit play/sporty/leaf peep, ski, snow tube, & ice fish. Boston 3 hrs, near Portland. Romantic Get A Way, Rustic Retreat: can sleep 4-up to 8 See MANY Pics, great kitchen, hot shower and a claw foot tub upstairs in the bedroom- ahhhh! so sorry but No Pets anymore, please.
L'alloggio
FUNky, COMfY, cozy, Big Wood stove.. NICE Old Camp!!..."Nature Lovers Paradise- Lakeside" is a popular, comfortable and very cozy FOUR SEASON Camp...sleep, BBQ, right on the water's or ice edge! Has a lakeside setting, Outdoor kitchen, 4 burner Gas BBQ, Big Wood Stove, a computerized furnace, DISH TV and a dishwasher. A Really Cool very Rustic Camp centrally located for 4 Season fun and other Maine attractions. Not only hiking and biking nearby, close enough to drive to both ocean, hiking trails, and ski lodges. Plus other sports like: snow tubing, X country ski, ATV.. or walk/ snowmobile from yard, lake or road onto nearby trails plus more. Very convenient.. too much fun to imagine! Or just plain veg. out and just plain do relaxing, cook, play games, watch old videos during cooler/wetter weather times, or go eat out!
"WE REST YOUR TOES WHILE YOU REST YOUR (URL HIDDEN) this comfortable, perfectly imperfect sort of cluttered ole camp!"
Only 3/4 hr. No. of Portland, ME. USA (Portland is a granola-like, ocean side city with a Jet Port)
What to do? Lots: This popular.."perfectly not perfect, little ole camp" is on a nice LITTLE lake, that fast freezes, in the winter; unlike Thompson and Sabago lakes. IT IS NOT CROWDED WITH BOATS or jet skies, IN THE SUMMER EITHER. Since it is centrally located in Maine ...the drive times to attractions are 05 minutes to about an hour and a half +/-. At the camp: water play, row, canoe, beach, fish, wood fires, (scubba diving/wind sailing lessons booked ahead.) Inland you can hike, bike, go climbing or snowtubing, x country ski/snowshoe on Carters X country ski trails (15 kilometers of trails-with a warm up lodge, store and equipment rentals.) In addition...Ski nearby at 7 locations: Lost Valley, Shawnee Peak, Conway (Tourist Shopping, Mtn. Climbing and Ski Cranmore Mtn.,) Mt. Abrams, Sunday River Ski Resort, a day trip to Sugarloaf Mtn. is hearty; but I go, and it is my favorite resort and ski area. Snow Tubing is down the road a piece. It can be fun at night too; if coming in Fri night from the South, you can snow tube enroute in Windham, ME. At the camp, right out the door of my camp... I walk, x country ski or snow shoe on the lake, the dirt roads, or into the forest. You can snowmobile from here too, to the Casino, they say. There are some snowmobile woods trails- a short quick drive or walk up Rt 11 from my driveway. The snow mobile trails are usually packed and good for walking/snowshoeing/or X country skiing a few miles too.. I can also go skating if someone clears the ice off. Outside on the lower deck is a deck side fireplace chiminea, for sitting around on cushioned lawn chairs and basking in the summer or winter sun. Being on the lakeside in any season is so..beautiful when the sun pours in, to relax.
There are many local restaurants (5 min. pizza, half hour/hr. almost anything you want) within many driving times for decent food so you do not have to cook in all the time. Yet, I have a fully equipped kitchen and there are three grocery, convenience stores, etc. 10-20 minute drives.
Inside the Nature Lover's Paradise camp, enjoy: Dish TV, and a great big video library. Play video, DVD and music CD's, lots of games and cards, a grecco crib, kids toys. Feed a cozy wood stove.
WIFI and modern appliances? YES! Hope this begins to help with your planning. A lot more description details follow.
The place easily sleeps four, has 7 beds (3 beds sleep 2 people.)
The cost is up to 175 per night and sometimes lowers (May 2016 through April 2017) plus a 65 cleaning fee. A 100 deposit is held on your cc about a week before arrival. When you book, you pay in full by cc plus some small AIRbnb fees. Since I do not know those air fees I can not quote them to you. Look for Air fees on the screen. After staying here, If you thought this camp is or is not a good value, I hope you will let me know?! At initial inquiry, please include your estimated number of guests. Note, after you book it, I can alter your number of people and pricing up, if your initial planning numbers are too low. ( ie: before arrival that day- if more people are going with you..it is ok, just communicate about it with your Host upon arrival.) Note: If the Air calendar says the dates are available feel free to book it without asking me first. If I have a rare issue I will simply Decline the booking and or do a discussion with you. If you can not pay now, ask your Host to reserve the dates. OK? Thank you!
More planning details: You have just discovered a 1907 East Shore piece of PARADISE in the famous Poland Spring Area of Maine, USA. It is a cozy 1907's renovated camp; surrounded by "old growth pines and water." It is easy to get too. It's situated on popular Tripp Lake. On maps Tripp Lake is referred to as "Tripp Pond" But locally everyone calls it Tripp Lake. It is only a 3/4 hour North from Portland, it's 10 minutes from a Casino, and 15 minutes plus, to many attractions. (more details further on)
For 67 years, our family's camp has slowly been maturing into a nicer little cottage, resting its old timbers only 22 feet from the water/ice. A "Great Place" for booking your vacation week, short stays, week end getaways or retreats. More about what to do there? This camp is centrally located between several great places: The drive time is 05 minutes to about an hour +: You can snow shoe on the Carters X country ski trails nearby (15 kilometers of trails , and 2 hrs. to Sugarloaf for Regee week end in late March/April spring skiing times!
Many concierge services can also be available with pre-discussion and agreed upon additional fees. ie: Cooking, pick up at station or Casino .....just inquire, discuss and pay. How could I help you relax and safely arrive in a strange place to you?
RELAX is the word here. Easy Does It! Enjoy the OUTDOORS and the hu
ge old wood stove's heat for fun. For some people the brain shift to doing some camping and breaking the everyday routine is relaxing. This fun and funky place can do that for you, but you will have to leave the critic at home and bring a sense of humor: there are bugs, electric switches in strange places and clutter so do not tell the world in a review, please. If you are reaading this, the world already knows. Please do not hurt my ratings with criticisms...please go someplace else if you do not want a nice, campy, feeling! I do not advertize Luxury, I advertise Funky!
This Lakeside camp feeling includes: THE site for EASY CAMPING METHODS: running lake water, hot running water, shower and tub, modern appliances, soft carpeting, wood beams, wood stove, computerized furnace, many beds and a lot more. "Lets camp and, deal with camp kind of stuff-just do something different! " LET"S HAVE SOME DYNAMICS! It is so PERFECTLY "not perfect," camping with the "fun in funky" that's still alive.
Think of this central location this way: This "Nature Lovers Paradise-Lakeside" location is a four-season rest and recreation camp. You can easily STAY and PLAY or Go and PLAY. You can STAY and swim, water ski, canoe, kayak, hike, bike, ATV/UTV, X Country ski, skate, BBQ, cook, read ... do a lobster feed etc. Or GO AND PLAY to nature walks/golf at the Poland Spring Resort's course, walk the Preservation Park Nature Trails, do Agriculture Family Fun stuff, eat out, summer playhouse theaters, gamble at Oxford Casino, tourist shop Freeport, Portland or Conway, Portland Lighthouse, drive to the OOB pier & ocean/arcade, do snow sport day or night ski trips to Sunday River, Sugarloaf Ski Resort (s), Shawnee Peak, Lost Valley, Conway, tourist the White Mtns (N.H.), go to Fryeburg Maine's huge Country Fair (end of Sept), Plus, close to the cottage is the Poland Spring's STATE PARK big sandy beach(URL HIDDEN)
Today Non Potable Water: Though certainly "A Chef's Paradise for cooking supplies" and cooking gear....we are used to the camp's cooking and showering with, but do not tend to drink, the LAKE WATER though; right now. The Owner Does Supply lots of fresh spring water... or feel free to bring your own label. This cottage and its running tap lake water is located on top of the famous and pristine Poland Springs aquifer's healing waters area.
This camp is named "Nature Lovers Paradise- Lakeside!" You would be staying at a site between lake water, with a camp and other buildings with wood piles and stuff. It is up on slightly higher ground from the lake. A vernal pool: with bullfrogs, fairy shrimp and a bird sanctuary are behind the camp. Eventually, way out back are woods and higher ground. It is a somewhat of a perfect Feng Shui landscape site for resting. For summer, keep in mind that due to many breezes people say "this is NOT a "mosquitoes galore " buggy kind of place at all. All camps have bugs. But we are not one of the real buggy kind at all. Yippee!!
Enjoy all kinds of Nature's critters and plants. Fish from the dock, and if you see a flea inside, feed it to a frog outside. (Just kidding of course.) Be real about camping expectations though. Please arrive and depart with an attitude of gratitude about Nature's little creatures. Try to leave your professional critic at home or in the office. The owner humbly wants you to know that simply due to the NATURE OF CAMPING please come prepared for a "true nature of camping." It is not perfect or uncluttered here. There is no tar, or grass to mow here. If you are a "tuned in reality camper," then great!
The cottage yards are not only bright in the morning, as it faces East for Morning sun, it faces West where Sunsets are Born. The clutter is part or the character and decorations.
Enjoy, Nature Lovers Paradise Lakeside... With its' East Shore setting...159' waterfront beach area, a dock, canoe, kayak, typical sandy bottom, lake grasses, sandy beach in season, fishing and lakeside views. Relax with 3 DECKS/ 5 grills: one large deck on the West side with charcoal and gas BBQs, a gas hotplate and running water double sink, an East side deck with a breakfast cafe table and charcoal BBQ. The 3rd lower level deck over the waterfront area (or skating rink,) has a deck fireplace and chairs. The lake and wharf style dock accommodates your water ski boat. Plus a big lakeside fire-pit gives the wood burning smells of camping.Yet, indoors the modern gas range ups your camp into a fully equipped cottage kitchen.
Atmosphere Description: A single lane, wooded, private gravel drive curves toward the camp in a family, vacation minded neighborhood. Professional, family style NEIGHBORS, other renters, and the workshop, sauna, ice fishing house, and owner's bunkhouse/office- studio are close by. People, including the owner, quietly come and go. Synopsis: It is a private driveway, yet there are other buildings and people nearby doing stuff: campfires, fishing, swimming, boating, relaxed campfire talking, laughing, fireworks, children noises and mostly pretty quiet fun playing around types of activities. It is a "close/caring" and friendly neighborhood type of atmosphere, with weekly changing groups of company. In addition are the joyous sounds of the ELITE "Tripp Lake Camp" from across the lake during July and August only. Your yard/beach area feels pretty private in relationship to the many buildings around it. You are not in the wilderness. But if you want total privacy/wilderness...See my 2nd camp in Buckfield, Maine USA listing on Air...Nature Lovers Paradise - Mountainside!
Right now approaching Summer it is very quiet. Summer and the forth of July week is the noisiest. Though a private setting, due to large yard and 156" total property beachside, it is usually a lot more quiet Sunday night on, during the week and after Labor Day weekend through leaf peeping season. In the winter it is pretty much a silent retreat. This is a 4 Season "Maine Paradise Rental"
Now, come on.. take a tour INSIDE this comfortable, antique style cottage. It has an open floor plan. The main room is the 180 degree Lake View living room, which is framed with large rough beams, earth tones, wall to wall carpeting, splashes of color. The seating includes a double bed convertible couch, rocker/recliner, huge overstuffed chair with matching ottoman, glider chair, and two single beds along the windows, overlooking the lake.
Stepping out of the living room toward the fully equipped kitchen you will find pine slab counter tops, oak floors, a cozy dining area with a bay window facing the lake's sunsets in a cafe-like setting. A huge and wonderful wood stove, along with all the wood supplies, heats the whole place in the winter (along with a monitor- computerized furnace.) Welcome good heart campers and tired travelers!
There are TWO BEDROOMS, one up and one downstairs.
1.The first downstairs bedroom comes with two small windows, good ventilation, a bunkbed and Queen memory foam bed. It is located off the living room. Door opens into a 3/4bathroom. An open concept space that goes into the living room is closed off by the old beautiful piano. Due to its open concept, with the movable piano, this downstairs bedroom can be converted to HANDICAP ACCESSIBLE upon request. Yes, there is no wall on that side of the room. the heavy piano is quite a wall in itself. Video TV is also in this bedroom along with a large video library.
2. A short, steep stairway leads upstairs to another bedroom, complete with a double futon, single bed, Victorian chair, ceiling fan, AC, windows overlooking the lake plus an ancient claw foot tub; with its gold painted toe nails- enticing you to REST YOUR TRAVELING TOES AND SOULS! There is a DVD and Video TV upstairs too. You can "watch" it while; in the tub. Or just lay back and relax, then dry off and flop into bed.
3.The Living Room has a double bed couch and right next to an open window by the lake is a favorite 3/4 memory foam (two mattresses) bed, on the floor, facing DISH TV.
Expect rural, not city communication dynamics.
Camp games: Darts, horse shoes, bad mitten, puzzles, bingo, books, and cards and several board games.
Just a little more detail:
Nature Lovers Paradise-Lakeside is located in the Poland Springs Area , near Portland and other surrounding towns such as Norway/So. Paris, Paris, Oxford, Naples, Lewiston/Auburn. located between the ocean and the mountains. Located between the Ocean and Mountains, the Poland Spring Area is famous for its "Healing Waters and Historical Golf Course;" Maybe you have heard of the famous bottled Poland Spring. This camp sits in on the aquafer's area.
Port city is a nickname for Portland, the largest city in Southern Maine, plus remember "Freeport," the hometown of LL Bean's- famous outlet shoppers paradise....both are only 45 minutes away. And so is the Desert of Maine. OOB refers to Old Orchard Beach. It is only about an hour away.
Ya!.... Skiers, hikers, bikers and climbers this place is your Nature Lovers Paradise to go to and from. Sunday River Ski Resort, Golf and a Casino are only 4 to 40 miles away. Check out Harvest Hill Farm's Pumpkin Land web site, Skin Divers Paradise and Wind surfing lessons are available too. Trip Lake is 3 miles long and 1/2 mile wide. It is ideal for bringing your motorboat, canoe, or kayak and is a good fishing lake year round.
Driving your car is your best means of transportation. Public transit is cab services. No local buses. But, I can pick you up at the Portland, or Lewiston Maine Bus Stations or airport for fee. Yes, there are local restaurants.
Maine, known as "Vacation Land" awaits.. come and enjoy NOW!
Accesso ospiti
Guests have access to free parking, the main camp/cottage building, yard, beach, inside shower(downstairs) plus a tub (upstairs), three decks, 3 grills, firepit, deck fireplace, lawn/deck furniture, boats etc, parking lot, private driveway with owner, 60' beachfront, dock for your boat(in season), ice fishing possible(in season), walking trails, shopping and local attractions.
Interazione con gli ospiti
Il tuo ospite ti orienterà al "FUN" del campo in modi FUNky per la tua comodità. Altre interazioni sono semplicemente la vostra scelta. Ha sede in questa proprietà e utilizza anche il suo piccolo studio / bunkhouse accanto. Lei può tranquillamente o non può venire e andare mentre si sta godendo il campo principale e la maggior parte della parte sul lungomare della proprietà. Le vacanze romantiche richiedono la privacy, ma gli scambi culturali sono talvolta buoni divertimenti sociali (pre-arrangiati). Come ospite, basta che Trudy conosca in anticipo, quale privacy extra richiede che tu possa desiderare dalla sua famiglia. Lei è molto rispettosa della tua privacy e tuttavia molto felice di aiutare il tuo soggiorno, fornendo pieno alloggio di riempimento. Vuoi affittare l'intero campo principale.
Your host will orient you to the camp's "FUN" in FUNky ways for your convenience. Other interaction is simply your choice. She resides at this property and also uses her small studio/bunkhouse camp next door. She quietly may or may not come and go while you are enjoying the main camp and most of the waterfront part of the property. Romantic Getaways require privacy, yet cultural exchanges are good social fun sometimes (pre-arranged.) As a guest, just let Trudy know ahead of time, what extra privacy needs you may want from her household. She is very respectful of your privacy and yet very happy to help your stay, by providing full filling accommodations. You rent the entire main camp.
Altre cose da evidenziare
Un campeggio unico, caldo e accogliente, rurale, vecchio e ingombrante come l'impostazione. Questo è un NICE, vecchio campeggio / cottage! Fornisce così potete viaggiare leggeri o scendere dalla strada e riposare, veloci e rilassati! Lenzuola e alimenti BNB sono disponibili. È situato, smack sul lungomare!
A unique, warm and cozy, rural, old, cluttered camp like setting. This is a NICE, old camp/cottage! It supplies you so you can travel light or get off the road and rest, quick and relax! Linens and BNB foods are available. It is Located, smack on the waterfront!
Ospiti extra $25 / notte dopo 4 ospiti
Comunica sempre attraverso Airbnb
Per proteggere i tuoi pagamenti, non trasferire mai del denaro e non comunicare all'esterno del sito Web o dell'app di Airbnb.
Sistemazione per la notte
Camera da letto 1
1 letto matrimoniale queen (152 x 203), 2 letti singoli
Camera da letto 2
1 letto matrimoniale, 1 letto singolo
Spazi comuni
1 divano letto, 2 letti bassi
Check-in a qualsiasi ora dopo le 16:00
Self check-in con doorman
Kitchen Rule: Grease goes in the grease containers (not down the drain, please), Property Rules: No Pets with exceptions (only seeing eye dogs type, additional $60 per pet fee.) No smoking inside the cottage. Safety: Just for you to be aware: There are tree roots that stick up above ground. There are fresh water clams and shells in season... Rule:They are not edible and have sharp shells. Do not jump down hard on some of them. Rule: We rake the lake weeds, not the ground's pine needles, please if you see a rake do not rake them.
Rule: Docks, decks, tree roots and... running... do not go hand in hand.
Extra Safety: Note about Tap Water: We only cook, rinse veggies, shower and laundry with the tap water. We do not drink the tap water. The tap water is the old fashion " camp's lake water method," at this time. We do wash veggies etc, with it and then quickly extra rinse with spring water though. Manager provides bottled or fresh spring water. We brush our teeth with spring water too. Part of the "fun" in funky.
We do have a spring water well. But at this time it is under maintenance. Sorry for any inconvenience.
Check in and Check out: Check In: Anytime after 4 PM. Your night arrival/late is common for me. Just text or call as you leave Portland. I can estimate your arrivel time by this notification. Then call me when you get into the yard. Enter through the glass sliding doors. Lights will be on. Keys are near the microwave. Check out is noon. Please just make sure I know what sheets to wash. Put towels into the washing machine. Close trash bags. Use the big black trash container out back. We do recycle bottles etc, and compost. All containers are provided.
Use camp policies for other guidance.
Rilevatore di monossido di carbonio
I am a Maine USA native. I love to share my cozy retreats: A camp on Tripp Lake and my Streaked Mountain Glamping cabin (Upscale Camping but not upscale camps...just very fun and different), with people who are seeking seriously "Nature Lover's Paradise" settings. Good air, good food and fireside is Fun! At these rural properties, "We Rest Your Toes, while You Rest Your Souls." Retired now, but former careers Special ED, Innovative Program Development, Management, and Corporate Executive provides background experience has shown Trudy people's needs to Rest. Also, a former, dancer, and mountaineer mother, she now has an adult Mountaineering "Maine Guide" son. We are a family of Real Estate dabbler too. Trudy is inviting you to come to experience Maine's slogan : The Way Life Should Be!
Seventeen years ago, a car accident tragedy whipped A Type Trudy out of the workforce and forced her to learn how to survive, and recover. A long struggle endured. Now thriving, today's five things she can not live without are medicine foods, exercise, mobility, daily contact with spirit, and social contacts. Trudy says "I love to study, read, cook, paint, do music and dance. Since, discovering wonderful Airbnb's concept of the "shared economy" and the "art of hosting"....Guests have been arriving from the all over the world... Cultural exchanges and feeling great energy coming into my spaces after people have gathered and enjoyed it, has been the best medicine ever! I love hosting/sharing my "Nature Spaces" with Guests. Slowly I am getting the itch to travel too, and meet new hosts! I am so Grateful to my friend Katheryn for telling me about AIRBNB. If you are a potential guest it would be super to share with you too. Thank you for finding me today! Kind Regards
Tasso di risposta:
100%
Tempo di risposta:
entro un'ora
Esplora altre opzioni a Polonia e nei dintorni
Altri alloggi disponibili a Polonia: